Sea Stars in Starfish Island
"claim that star and follow your dream," I heard her say
As I dove deeper, the sea water filled my lungs
I fought hard and pushed further,
"just a little more", I said
I stretched my arms and looked forward to the base
There, lying alone, is the star in my dreams
-         I dreamt of Stars in the Sea, Anonymous
Sea stars, commonly called starfish, are abundant in a certain part of Palawan. Care to guess where?
For eco-tourists and wild marine-life adventurers who want to explore Palawan's biodiversity, Starfish Island in Honda Bay should definitely appear in your must-go-to list.
The Starfish Island
 Starfish Island is a piece of white paradise shelled around by clear waters; it is a small islet in Honda Bay. Near Starfish Island are other small islets called Snake Island, Pandan Island, Senorita Island and Meara marina.
Although Pandan Island enjoy the most attention from tourists because of its magnificent snorkeling areas, Starfish Islands offers something different that people cannot find on other areas of Palawan. As evident in its name, Starfish Island has the greatest population of sea stars in all Palawan.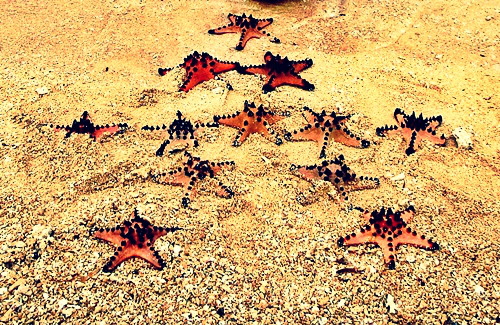 Symmetric five-armed orange sea stars (referred to as pentaradial symmetry) are the most abundant type of sea star in the area. Their large concentration in Starfish Island can be due to the abundance of coral reef formation in that area. Sea stars are known to inhabit sea beds with tropical coral reefs.
Get to see starfishes up close! Click to book your reservations for hotels in Palawan today.
Fast Fact: Sea stars belong to the group of echinoderm; they are close families to sea urchins and sand dollars. There are about 2,000 species of sea stars around the world; the five-arm varieties have the greatest number but there are also species with 10, 20, and more than 40 arms.
In 2008, an enormous wave of coral-eating crown-of-thorns starfish (Acanthaster planci; second largest sea stars) wreaked havoc in Puerto Princesa shorelines. The Bureau of Fisheries and Aquatic Resources feared that the heavy infestation brought by these predatory sea stars could ultimately destroy the coral reefs and affect the fish production within that area.
Photo of Crowns-of-thorn sea star
More than 300 hectares of marine coral reef in Roxas alone, the widespread coral bleaching due to sea stars attack reached as far as Pamalican and Green Island bay. Thankfully, the infestation was blocked by the joint efforts of public and private institutions. Today, coral reef formations in Palawan are as abundant and lively as ever.
Aside from sea stars, several species of fish, palm trees, and mangrove trees are also found in the islet. A large mangrove forest stands on the eastern part of Starfish Island.
Entrance fee on the island is at P30 to P50. There are also cottages that can be rented for quick or overnight stays. Activities in the island include snorkeling, feeding fishes, playing with sea stars sand dollars. You could also sit idly and have your picnic with friends or families.
Want to visit Starfish Island? Book your Palawan tours with Seacologia Travel & Tours today! We offer affordable Palawan packages for individual and group trips, complete with accommodations, meals, and other travel perks.