El Rio y Mar Resort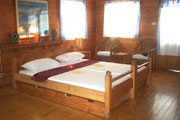 The resort is set amidst 500 meters stretch of pure white-sand beach, distinctive panoramic view with enchanting mangroves and its breath-taking neighboring islands.
Guests can also relax in the well-maintained swimming pool with crystal clear waters.
El Rio y Mar Island Resort with its unique flora and fauna has its romantic ambiance combined with the serenity and beauty of the natural environment.
El Rio y Mar Resort Facilities
Bayview cabanas in imported Cedar and Native Wood with thatched roof, spacious verandah designed to provide guests with comfort and luxury. All cabanas are fully air-conditioned, fully stocked mini-bar, refrigerator, coffee and tea making facilities, bathroom shower and wash cabin with hot and cold water system and large verandah. Super deluxe rooms are with bathtub, TV and video facilities.
• Al Fresco Restaurant (Comedor) serving Asian and International Cuisine which also incorporates the Cuatro Bar
• Floating Bar
• Fresco Lounge
• Spa and Massage
• Souvenir Shop and Boutique
• Safety deposit and Guest Services
• Airline Ticket Reconfirmation
• Foreign Exchange
• Room Service
• 24 Hour Security
• 24 Hour Stand-by generator
• Swimming pool
• Gameroom
• Video and Videoke room
• Mini-library
• Aqua-sports and Dive shop
• Indoor and Outdoor Games