Crystal Paradise Resort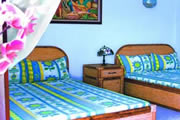 The lodge is located in the lush jungle and along side the beautiful Macal River, a secluded location but still close to San Ignacio, the major town of the Cayo District.
Combine this exotic atmosphere with genuine Belizean family hospitality, and the result is a rare encounter between culture and adventure.
We provide our guests with the opportunity to explore the country's many wonders while staying in comfortable accommodations that reflects Belizean culture. It is one of the few resorts owned and operated by a Belizean family.
Crystal Paradise Resort offers a unique and intimate way to experience the magic of Belize. Join us for your Belize vacation, and you will remember your trip for a lifetime.
Belize's Keel-Billed Toucan Crystal Paradise Resort was hand built by the Tut family, using the ancient art of palm-thatched roofs that compliment with the natural beauty of Belize. Our large family runs the resort as a team to offer you the finest accommodations along with a wide variety of activities and tours, offering you a vacation that regular hotels cant compare with. It has been a favorite in Belize travel for more than a decade.
Crystal Paradise Resort Facilities
We are happy to offer several lodging options to suit different tastes and budgets. All of our cabanas are fully screened, equipped with ceiling fans, private baths with hot and cold showers. You can relax and listen to the sounds of the jungle from your very own veranda with a hammock and deck chairs for your comfort. All accommodations include two daily meals. Laundry service is also available.
Valley View Thatched Cabanas – These cabanas offer a breath taking view of the Macal River valley and surrounding jungles. A gentle breeze and the thatched roof make the temperature inside the room pleasant both day and night. Each room contains a queen-sized bed and either a double, single or two single beds.
Garden View Thatched Cabanas – As the name suggests, the Garden View cabanas offer a great view of the garden and landscape of Crystal Paradise. Each room has a double bed and single bed, or two single beds.
Garden View Thatched Cabanas Garden View Lofts Family Cabanas – We have four thatched cabanas with upstairs lofts. They are very spacious. These rooms have multiple beds, allowing for up to 8 people to stay comfortably. These rooms are great for family or groups of people.
Regular Rooms – These are our most economical rooms. They do not have thatched roofs or private porch area, but they are located around a palapa with hammocks and chairs for all to use.