Apulit Island Resort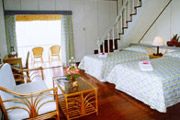 It has a vision of Man and Nature living together in harmony. Isabelle, the first owned resort is designed to be a model-case for eco-tourism.
With administrative authority over a one mile radius of the island, it has slowly brought the reefs of Isabelle back to life. The presence of the white breasted eagle, grey reef egrets, and kingfisher attest to the abundance of fish in the water.
Lying west of the Philippine mainland is the province of Palawan, an archipelago of 1,780 islands bordered by the South China Sea on the west and the Sulu Sea on the east. It quietly rests in its northeastern region, on the main cove of Apulit Island in Taytay Bay.
The Club like to think of it as returning to the essentials of life. These essentials–beauty, adventure, sustenance, harmony and romance – are the things that modern life has left behind. Just as now we are rediscovering the importance of the environment, Ours is a return to the essentials of life. Here, you can relax and unwind from the stress of work, get away for a romantic weekend, or experience the adventures that you've always dreamed about. Step onto our shores and discover that it's so much more: a place to discover what is truly important, a dream of what the world can be, a true return to what is essential.
The club provide you with everything essential in life. Find out how our place is intertwined with nature in our unique Facilities. Check out our sumptuous Cuisine and discover all the different Bars and Restaurants you can visit. Here, you'll rarely ever eat a meal in the same place twice.
Find out more about club noah and its surroundings. Getting There is a unique journey that is an adventure in itself. Then discover the wonders of Palawan by reading about our Location & Geography, as well as its Weather & Climate.
Of course, Safety is always a concern. Club noah have spared no effort in providing you with the safety you need. With your mind at rest, you're ready to enjoy all the wonders we have to offer.
ENVIRONMENTAL POLICY: Please do not disturb the balance of nature. We strictly prohibits the gathering, collection and removal of shells and corals from their natural environment. They are there so you, and future generations, can enjoy them.
It has a total of Fifty (50) water cabañas. Cabañas 1 to 16 line the east side of the cove, and 17 to 30 line the west side. These are single storey huts that can accommodate a maximum of three occupants. Cabañas 31 to 50 are duplex-style split levels that are ideal for families. Two single beds (102 cm. x 198 cm.) occupy the first floor while twin semi-double beds are on the second (The semi-double beds are custom-made and measure 122 cm. x 303 cm.). All cabañas have private showers with toiletries. Hairdryers are available upon request.
For more information, please free to contact us for the El Nido Palawan Resort Philippines @ +63 (2) 710 3445. Inquire now!