El Nido Lagen Resort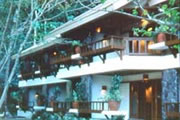 Lagen Island Resort is located in Bacuit Bay in the town of El Nido, Northern Palawan, Philippines.
Set in a marine reserve, Lagen Island is surrounded by sheer limestone cliffs and pristine waters. Its numerous coves are ideal for snorkeling and other marine sports. Its lush forest is host to more than 70 species of birds, a large number of which are endemic to Palawan.
El Nido has many fascinating natural attractions, which include hidden lagoons, secret beaches, and cathedral-like caves. The water in Bacuit Bay is crystal-clear for most of the year. Even non-divers catch sight of sea turtles and colorful reef fishes
El Nido Lagen Resort Facilities
The resort has 51 rooms comprised of 18 water cottages,9 beachfront cottages, 20 forest rooms and 4 suites.
The layout of facilities and rooms provide different vistas into the gardens, the cove, or Bacuit Bay
Marine sports activities include snorkeling, diving, windsurfing, kayaking, water-skiing, and hobiecat sailing. A 25 x 12 meter swimming pool is located in front of the clubhouse, surrounded by tropical palms and overlooking the beach. A short hike through Lagen's lush forest will take you to a private cove.
For more information, please free to contact us for the El Nido Palawan Resort Philippines @ +63 (2) 9836478. Inquire now!