Coron Hilltop Resort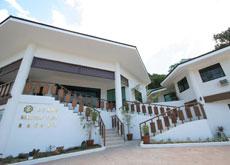 Coron Hilltop View Resort (CHVR) is a 5,500 sq. mtr. resort that is strategically located between Busuanga Airport and Port of Coron. Its location is perfectly situated between the airstrip and jetty port to accommodate the comfort of our customers. This area harnesses the natural beauty of Coron and the laid-back rural culture of the vicinity. The resort is idyllically situated amidst bountiful tropical green trees, a perfect spot to start your day having a deep breath of fresh air to revitalize your mind and body.
Coron Hilltop View Resort , a paradise resort amidst the tropical mountains of Coron Palawan. The resort offers Deluxe accommodation in its fully-furnished Villas overlooking the lush mountains and the hotel's swimming pool. Coron Palawan, famous for its beautiful dive spots, sugary white sands, exhilarating cliffs and limestone formations. Experience all of these activities at the Tour Packages Coron Hilltop View Resort offers. Kayangan Lake, Barracuda Lake, Twin Lagoon, Banol Beach are just some of the famous places to visit with breathtaking underwater rock formations and bluish clear waters. Coron Hilltop View Resort will make your stay at Coron Palawan complete and full of unforgettable activities.
Hotel Features
• Bar
• Outdoor swimming pool
• Children swimming pool
• Pool bar
• Conference room
• Restaurant
• Front desk
• Room service
• Garden
• Safe deposit box
• Handicapped access
• Security
• Handicapped room
• Shop
• Housekeeping
• Smoke detector
• Internet access (Wi-Fi) in public area
• Tour desk
• Lobby
• Tourist spots shuttle
• Massage treatment
• VIP room
• Meeting room
• Wedding service
• Non-smoking room