Flower Island Resort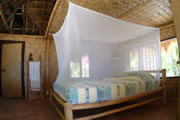 Minutes away from the breathtaking beauty of Palawan, the world-renowned nature preserve, is an unspoiled island paradise of unforgettable tranquility, serenity and peace! Welcome to Flower Island Resort in Palawan, awe-inspiring in its tropical glory and supreme in its showcase of Mother Nature's finest!.
Enjoy a memorable return to nature at the Flower Island resort in Palawan. This Palawan island resort offers Guests seven air-cooled huts scattered along the shore of Flower Island. Each hut at this rustic Palawan resort has one queen-sized bed, private toilet and bath, and outdoor hammock. A special hut with four air-conditioned rooms, each with a queen-sized bed and its own private toilet and bath.
Flower Island Resort Faciliites
Flower Island resort in Palawan offers an unforgettable return to nature guaranteed to relax the mind and nourish the soul. Select from any of eight huts, each with its own unique charm, as you make memories on the finest of the Philippines' 7,107 islands!
On Flower Island, Mother Nature takes prominence in her glory: go snorkeling, swimming, or exploring the many places of interest on the island! Afterward, feel free to hang out in the Flower Island clubhouse for a prime selection of indoor activities! For the ultimate unspoiled island paradise retreat, come to Flower Island!
The very essence of Flower Island Resort in Palawan revolves around returning to nature in its purest and most primal. Reconnect with the earth in activities designed to recharge, revitalize, and inspire: go snorkeling or swimming; explore Flower Island and marvel at this Philippine island's exotic flora and fauna; or soak in the rays of the magnificent Philippine sun for a truly tropical tan!
Dining
The Flower Island Resort in Palawan maintains a dining pavilion, where all Guests on Flower Island can proceed to enjoy home-cooked meals, featuring the sweetest fish and vegetables. Enjoy delicious, healthy seafood cooked in exotic ways that are unbeatable for flavor. All meals are included with the stay at this comfortable Palawan resort.
Activities
Guests can also enjoy the prime selection of activities for single or group travelers offered by this rustic Palawan resort. The Flower Island Resort's clubhouse plays home to a rustic dining area and two activity areas where Guests may lounge, relax, or gather together while playing board games, listening to music, or reading. A massage/spa hut and a souvenir gift shop are currently in development.

Guests at this cozy Palawan island resort may indulge in:
• Kayaking
• French bowling
• Beach volleyball
• Snorkeling
• A Guided 40-min. walk through a shore path around Flower Island
• Tour around nearby Pearl Farm