Legend Palawan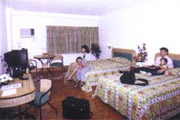 Strategically located at the heart of Puerto Princesa's business district, dubbed as the city's newest and finest hotel, The Legend Hotel Palawan is just minutes away from the public market and from Mendoza Park where fresh seafood and native handicrafts can be found.
The Legend Hotel Palawan is the second property in The Legend Hotel Palawan's thrust to develop hotel-in-garden-setting facilities in key growth or urban centers all over the country.
The Legend Hotel Palawan features an elegant atrium at the lobby with matching scenic elevator, whilst all 100 guestrooms are well-appointed and internet, e-mail-ready guestrooms. It has already built a reputation for excellent service, described by one visiting executive as "…innate caring and warmth that made our stay.
Legend Palawan Facilities
Puerto Princesa's newest and finest has 51 rooms at its main building; and 51 rooms at the annex. 45 standard rooms, 19 deluxe rooms, 18 premium rooms and 18 suites. First-class amenities and facilities in each room: Cable TV and in-house movies, electronic bedside control panel, hair dryer, air-conditioning with individual temperature control, daily business newspaper. Mini bar for deluxe and suite rooms. Internet/E-mail ready room connections.
Swimming Pool, Fitness Center, Meeting/Function rooms, Scenic elevator
Services.
24-hour room service, Foreign currency exchange, Laundry and valet services, Ample parking, Airport / city transfer, Fully energized-guaranteed no power interruption, IDD/NDD telephones with V-sat link, Electronically-controlled sewage treatment plant, Most modern on-premise laundry plant, State-of-the-art fire detection and prevention system, Water filtration and softening systems.