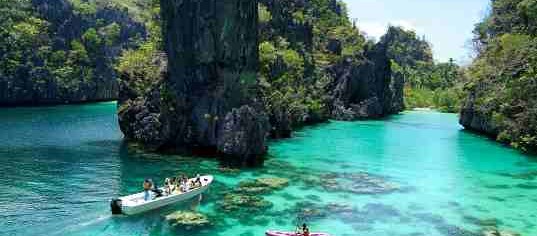 Palawan: Perfect Summer Getaway for Tourists and Popular Celebrities!

Feeling excited about the sun, sea, and sand? You don't have to go abroad to experience a one of a kind summer. Just here in the Philippines, you can find a paradise for those who want to unwind, relax and get away from the city's pollution and traffic.
Gradually, Palawan is becoming one of the top vacation spots in the Philippines not only for ordinary people but also to popular artists in the show business. Just this summer, there were celebrities spotted enjoying the exquisite beaches and wonderful views in Palawan. Want to know them? Here's the list!
Marian Rivera-Dantes and Family
Adorable and lovely Baby Letizia's first beach trip is Palawan! Marian Rivera-Dantes, Dingdong Dantes and their baby spent their vacation in this peaceful and serene place. Palawan has a number of beaches where the whole family can really have fun. If you want to stay there longer, you can book a room in Palawan Hotels that is not only affordable for celebrities but also for ordinary tourists who want extraordinary fun!
Valeen Montenegro
This actress from GMA7 did really enjoy her stay in Palawan. Valeen Montenegro had found the perfect beach for her perfect sexy body. It's a great opportunity to take #goodbyestress and #welcomesummer pictures! So if you also want pictures worthy for an Instagram? Go to Palawan!
Neil Coleta
Neil Coleta, an actor from ABS-CBN, enjoyed his Holy Week here in Coron, Palawan. The breathtaking views, terrific beaches and amazing atmosphere made his vacation more meaningful and memorable. Like, Coleta, you can also find many interesting Coron Palawan Resorts where you can relax and have fun! You can enjoy the beach alone and have time for yourself while drinking fresh buko or eating delicious seafood.  You can also bring your family and friends with you and bond under the sun!
More and more people discover the beauty of Palawan and  it's time for you to try it, too! This summer, get out of your office, get out of your house and have a memorable and exciting summer getaway!
Contact us today to get the most affordable Palawan trip. http://www.palawanresortshotels.com/inquiry/