El Nido, Palawan: The Philippines' Hidden Paradise
We all need our own paradise every once in a while.
We've all dreamed of taking a vacation in a beautiful place that is far away from the metro, and has the capability to take away all your worries even for just a short amount of time. Well, if true heaven is what you're looking for, El Nido Palawan is the perfect vacay destination for you, your family and your friends!
To those of you who enjoy being young at heart and are often fantasizing about being in a calming, pristine, and green atmosphere, now is the time to visit this beach paradise.
What Makes El Nido Stand Out From Other Tourist Spots?
Beauty
If you're going to avail affordable Palawan tour packages, one of the first things to consider is the look of the place you're about to visit. This Paradise has over 45 beautiful islands, and scenic landscapes that will definitely take your breath away at first look. Once you set foot on the place, your eyes will be refreshed with deep blue turquoise clear waters, impressive rock formations, fascinating caves and green farmlands.  Everything is just so surreal.
Activities
If you're the outdoorsy-type, you'll definitely fall in love with everything El Nido has in stored for you. The place offers island hopping opportunities, kayaking and snorkeling, wildlife spotting, food tripping, and cave and lagoon searching and the different El Nido resorts are really impressive . Additional activities accessible include scuba diving cliff climbing, cave exploration, windsurfing, and the best part is that you can also rent a motorbike and explore the whole place.
Food
A vacation will not be complete without savouring the best dishes offered in El Nido. There are French, German, Swiss, Australian and of course Filipino restaurants around the town that offers numerous chows to suit your appetite. These restaurants have everything you need – seafoods, meat dishes, salads, pastas, stews – El Nido assures that there will be something for everyone. Also, there are carinderias and tusok-tusok areas in town which can be perfect for those who are trying to save their budget.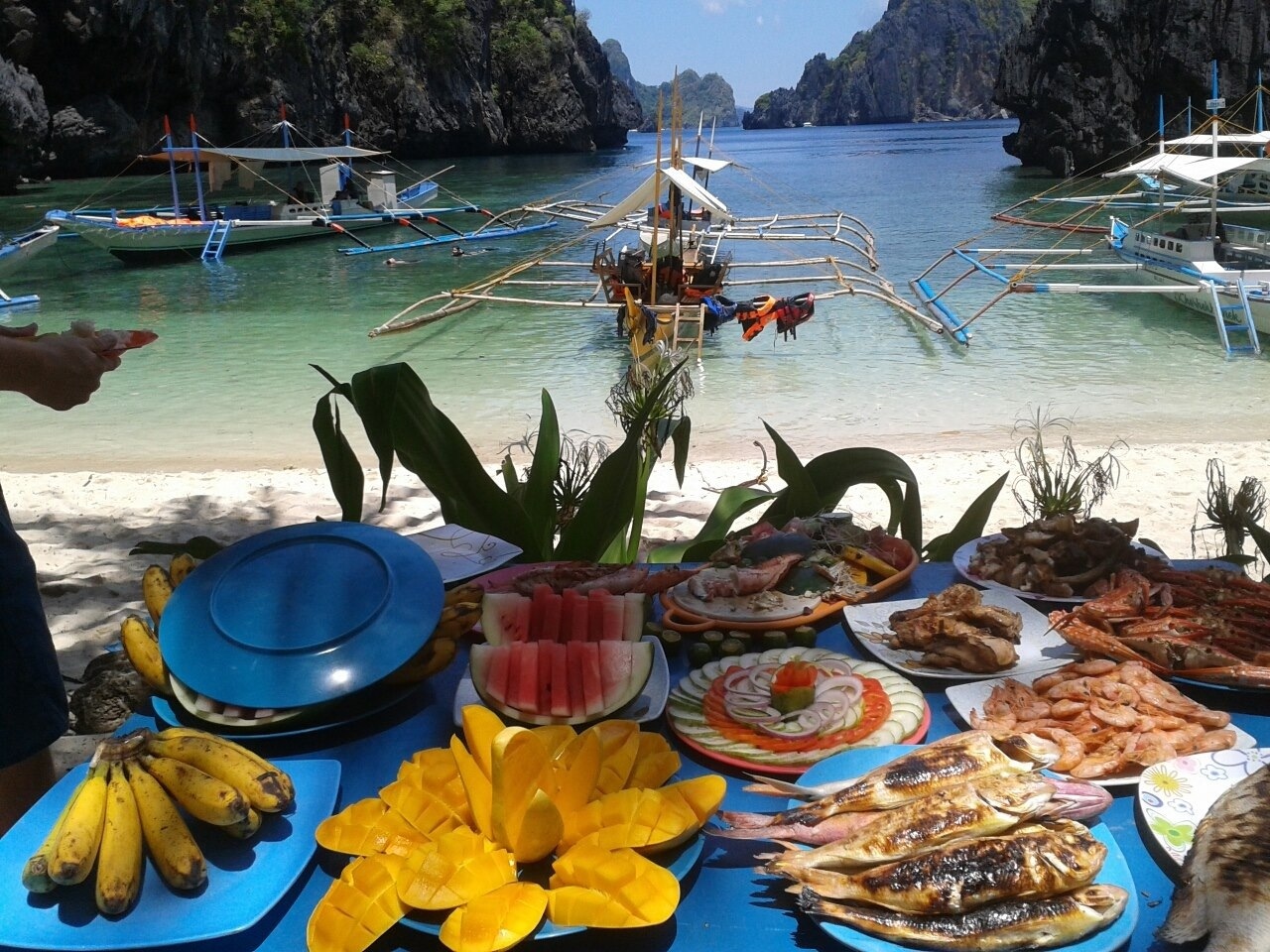 This statement alone is already a good reason to visit the island because it is a clear elaboration that Palawan is definitely a one of a kind place.
To visit the place, you can take the Roll On Roll Off Buses or a Private Van, both destined to go to El Nido. Do not forget to bring comfortable yet decent clothes and swimwear.
Tips when you visit El Nido!
Bring your rashguards with you for protection. Take your goggles, breathing tube, sunscreen and your underwater camera. The best time to go would be around December to March, and April to May for a guaranteed calm weather.  You don't have to worry about having a place to stay in, because El Nido has hotels, resorts and guesthouses that can take you in for a day or two.
Photo credit: pamobieta.wordpress.com