Sheridan Beach Resort and Spa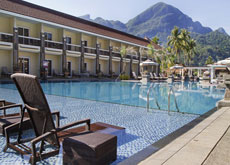 Indulge endlessly where greens flourish and where excitement becomes an experience.
Sheridan Beach Resort and Spa inspires life filled with comfort and convenience as facilities are expressed through a balance of simplicity and luxury.
Amidst the beauty of nature, witness a landscape of enchantment, a setting of beauty and natural wonder as surrounded by a stunning beach.
Sheridan Beach Resort and Spa Facilities
Known as an entry point to the world renowned Subterranean Underground River, Sabang is a secluded beach in Puerto Princesa City. A visually picturesque site, the beach is exquisite not only for swimming but for other activities as well with its fine sand. Other than the dramatic sunset, one can further explore Sabang as there are caves, coral reef, waterfalls and mangrove forest that one can discover and appreciate.